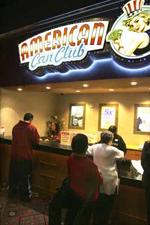 If you've ever played slot machines in a live casino you'll probably have seen players with special cards inserted into the slot machine sometimes attached to their shirt. These are what's known as slots players club cards and are a great idea for all slots players since they will get you a number of comps and additional perks just for playing. To sign up for a players club card, you'll usually see a booth in the casino called Player Services or something of that nature and this is the place that issues the the cards to players. Players Club cards are free to get and basically what it does is track your play and make you eligible for special offers for playing at the casino. Below we've provided some more information on players clubs and how they work for your benefit as a player.
How It Works
The way that slots players club cards work is simple - when you walk up to the machine insert your card into the slot and wait for it to recognize your card. Then, load your funds into the machine and simply begin playing your favourite denomination slot machine. As you being to play, the card will automatically track your bets and coin in play and this data will be transferred to the casino marketing department who will evaluate your play and send you free comp offers based on your level of play. This is a great way to get free incentives from the casino just for playing and since you were going to play anyways you might as well get something free for doing it.
The Comp Formula
The exact way that comps are determined differs from casino to casino but basically the most common method is that they will give you 1 player point for each $10 of play that goes through the machine. It's important to note that you will receive these points whether you are winning or losing and they will add to your overall player points balance and consequent VIP status. For most casinos, 100 Player Points equals $1 in comps so basically you will be betting $1,000 through the machine for each $1 in complimentary items. Keep in mind that since you don't have to lose this amount it's very possible to be winning at the slots and STILL receive free gifts from the casino.
Player Rewards
Once you've actually signed up and wagered through the players club, usually within a few weeks you'll start receiving letters or emails with different incentives from the casino to entice you to return to play. Depending on your level of play the offers you'll receive are different however we have outlined some of the main comps below:
Free Play Credits - A common comp for slots players club members whereby the casino will offer you free credits to use on the slots. The actual free credits are not cashable however anything you win above the credit offer you would be able to cash out for real money. This is a common comp that is often offered to lower level players.
Free Dining - Another popular reward for slots players club members is free dining credits in the casinos restaurants and buffets so you don't have to pay for food while playing. These are the most common type of offer you should expect to receive and usually you can get these with only a few hours of play at the casino.
Discounted Rooms - One great thing about being a players club participant is that the casinos are very quick to give you a discounted room rate at their hotel which can often be up to 50% off of the regular rate. These are pretty easy to get and you can usually request them after a few hours of play and they will be granted to you.
RFB Comps - For high level slots players it's possible to get an RFB comp which stands for Room, Food and Beverage or basically everything is free for you during your stay. To get this comp you need to play quite a bit at higher levels, say 6 hours per day at $1-$5 slots however this is a great comp to get if you can reach that level.
Overall, it's always a good idea to sign up for a players club since it costs you absolutely nothing to do it and if you are going to wager anyways you might as well give yourself the chance to get some free comps while playing.