If you were to take a quick search on the Internet right now about winning at slots I am quite sure you'd find at least a dozen or so websites that claimed to show you the "secrets" or tricks for how to win at slots. Over the years there have been many systems, myths and tips that many have passed along however unfortunately almost all of them are unfounded and actually do not work. Some of the popular "secrets" of how to win include:
#1 - Sticking with one slot machine will increase your chances of winning over time
#2 - Certain slot machines are about to "jackpot" because they have not won in a long time
#3 - The longer I play a slot machine, the more likely I am to win since I am due for a winning combination
#4 - If I cash out of a slot machine, the program will make it less likely for me to win on the next few spins
#5 - By pressing the button or lever on the slot in a certain way, I can increase my chances of winning
#6 - Always betting the maximum amount of credits on the machine will increase the likelihood of a win
All of the statements above are simply not true and no matter how much some of them may seem to be legit while playing slots they are definetely not going to guarantee that you will have a winning session while playing. If you've read our article on how slots work, you would see that every spin of the slot machine is independent from the next and thus the outcome of each game is totally random and cannot be altered by various player tricks. The only exception to this would be if you were cheating at slots which unfortunately is illegal in every single casino. Because of the way that slots are programmed using random number generators in conjunction with complex computer programs, the games are entirely randomized and it's impossible to tell when a slot is going to payout winnings.
How To Win At Slots:
Now that we know some of the things that won't help you to win at slots let's take a look at some tips you can use that are proven to increase your chances of having a better chance of walking away a winner when playing slots.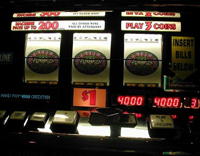 Budgeting: Perhaps the most important factor that slots players should take into account when planning a trip to the casino or playing ipad slots for real money, is what type of slots bankroll they are going to bring with them. Keep in mind that you'll want to maximize your playing time to be sure to bring an adequate bankroll that is within your means as a player. By brining enough money to satisfy your playing needs and nothing more, you'll ensure that you never spend anymore than you intended when playing slots at the casino. It can also be a good idea to keep records of how much you have both won and lost especially if you are in a country like the US where slots losses can be deducted.
Machine Selection: The next major tip that we can offer with regards to winning at slots is choosing the denomination of machine you are going to play so that it matches your bankroll. For example, say you were only bringing $200 to the casino and you planned to play a $10 per spin slot machine. This would be a bad idea as you realistically are only expected 20 spins out of the machine and your chances of going bust quickly are quite high. Instead of you played a $1 machine with 200 spins or a $0.25 machine with 800 spins, you would both have a much longer player time and also get more spins in on the machine giving you more chances at winning a jackpot.
Slots Players Club: Another thing that every slots player should do to maximize their winnings at the casino is join that casinos players club to earn rewards for playing. In land based casinos, the slots club give you a card that can be inserted into machines and they will track your bets and award you points as you being playing. As you accumulate points at the casino, they will start to mail you different comps ranging from free slots credits to slots tournaments, free meals, hotel stays and cash credits depending on the level of play that you give them. In online casinos there is a similar comp program accept everything is tracked through the software and they usually just give you instant cash credits when you exchange your points through the cashier. Since you are going to be playing slots anyways, you might as well take advantage of these free programs to get some cash back for your bankroll.
Know When To Quit: Although this may not seem like a typical "how to win at slots" tactic, knowing how much you are going to plan to spend and when to quit is very important as it will limit any potential losses you may incur and give you a bigger bankroll for a longer period of time. The best way to ensure that you never spend more than you intended at the slots is to take a preset amount of money and leave all debit and credit cards at home so you don't have access to anymore cash while you are playing a the casino. Using this strategy combined with all of the other tips above will give you the best chances of having a winning session when you play slot machines.